Castleville Yvette The Wedding of the Century Quest
The wedding of the Century is upon us.
Help Yvette plan the perfect Wedding!

Quest 1: Save the Date

Help Rafael and Yvette get started on preparations!

Quest Tasks:
Place the Wedding Hall
Tend 1 Flower
Fish in 1 pond
Quest 1 (Rafael): Rush Wedding
Assist Rafael in building the Wedding Hall early, for Yvette!
Complete the Wedding Hall and crew it
Hire Crew Members for the Wedding Hall
Quest Rewards (Rush Wedding Quest)
2000 Coins
40 XP
1 Wedding Carriage
Quest Rewards (Save the Date)
Look out for the Wedding Favor Bar at the bottom of your game screens
Quest 1 (Mia): Currying Favors

Help Mia make Wedding Favors as a thank-you for all the guests!
Fill the Favor Bar by crafting 4 Wedding Favors
Fill the second Favor Bar by crafting 6 Medium Wedding Favors
Crafting Small Wedding Favor:
REWARD – Wedding Flower Arrangement

Crafting Medium Wedding Favors: REWARD – Wedding Tree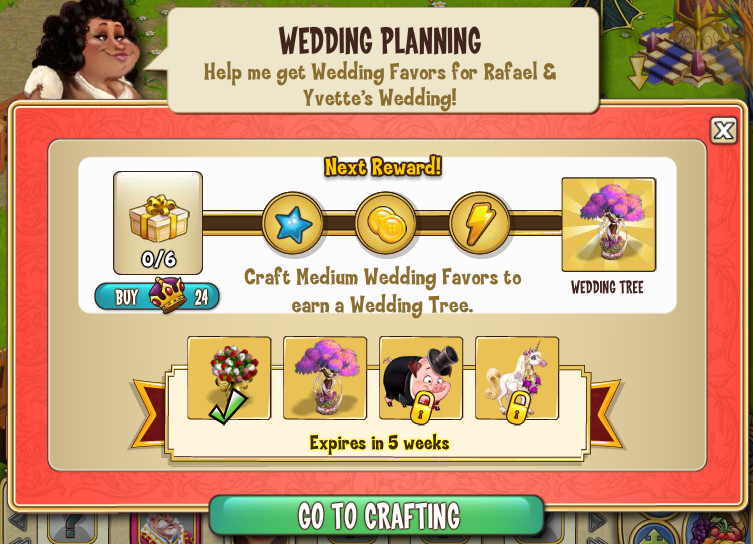 Quest Rewards (Currying Favors)
Quest 2 (Mia): Looked Upon With Favor
The Reception can't start until all the Wedding Favors are in place!
Fill the third Favor Bar by crafting 8 Large Wedding Favors
Fill the fourth Favor Bar by crafting 10 Massive Wedding Favors
Craft Large Wedding Favors: REWARD – Tuxedo Pig
Craft Massive Wedding Favors:
REWARDS – Wedding Unicorn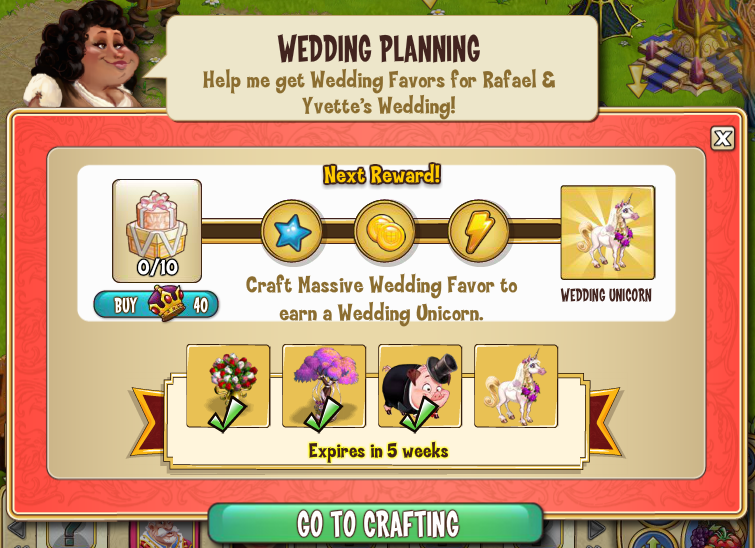 Quest Rewards (Looked Upon With Favor)
Quest 2: Inviting Troubles

Help Yvette get started on her invitations for that HUGE guest list!

Quest Tasks:
Have 4 Invitation Envelopes
Craft 1 Engraved Stationery
Craft 2 Candles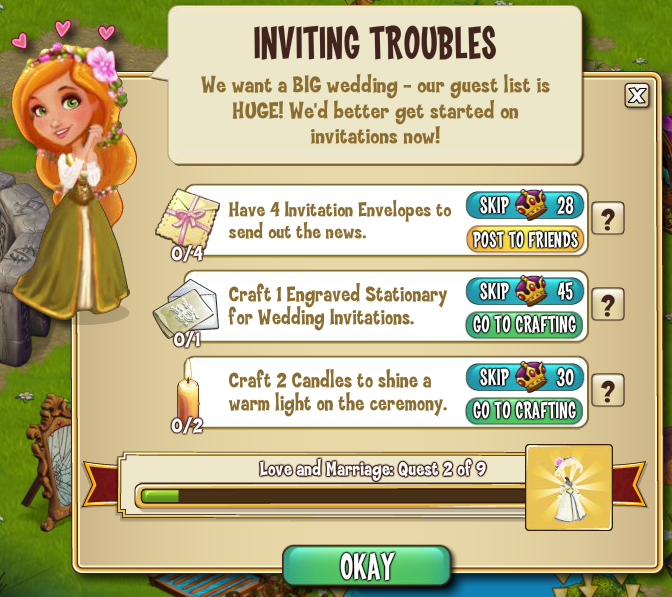 Quest Rewards:
2000 Coins
40 XP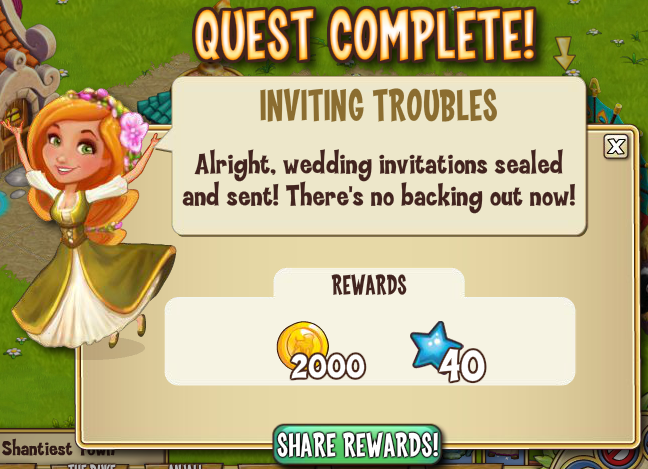 Quest 3: Say Yes to the Dress

Every girl is a little particular about the Wedding Dress, so is Yvette!
Craft the Wedding Dress
Craft some Wedding Veils
Tax 3 Houses for a spare hair clip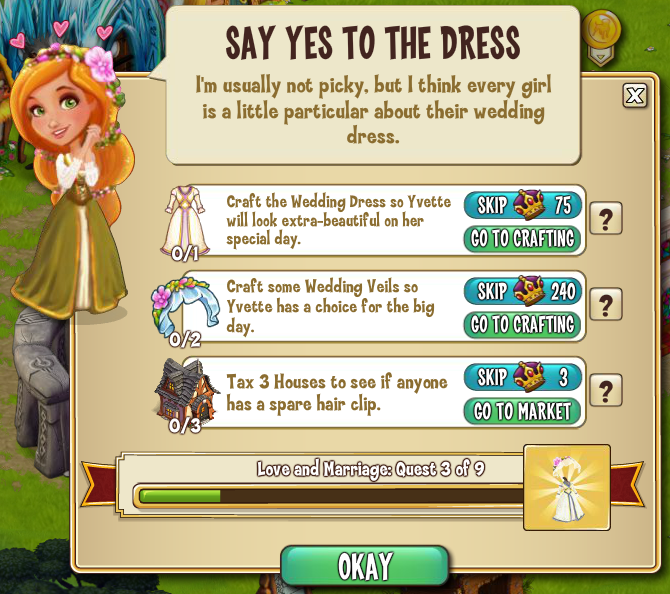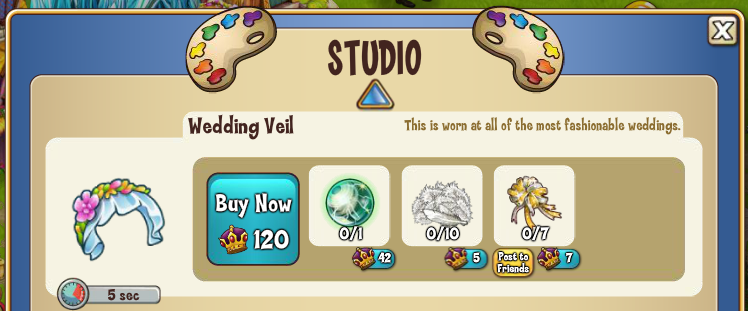 Quest Rewards:
Quest 4: A Groom's Garments
Yvette is all set to design Rafael's Wedding Attire
Have 6 Cufflinks
Craft a Wedding Tunic
Craft 1 pair of Wedding Trousers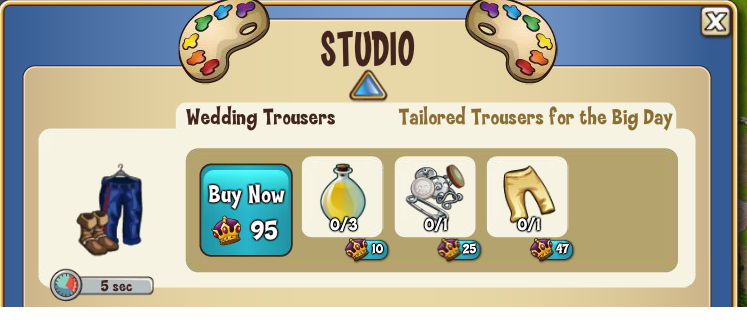 2000 Coins
40 XP
1 pair of Wedding Trousers
1 Wedding Tunic
Quest 5: Catered to You
What's a wedding Reception without a banquet? Help Yvette set up the Feast!
Craft 2 Roasted Chickens
Craft 2 Brain Food
Craft 1 Wedding Cake
Quest 6: Wedding Jitters
Yvette is down to the finishing touches, she's a little nervous!
Tend 5 Flowers for the bouquet
Craft 2 Flaming Grogs
Complete the Wedding Hall
2000 Coins
40 XP
1 Wedding Cake
Help Yvette snap Rafael out of the Trance Faugrimm has cursed him with by banishing Beasties and more…
Quest 7: Here comes the Bride
Faugrimm's got Rafael in a trance and Yvette is going all out to save him her Groom!
Craft 2 Flaming Swords
Cast the Banishus Maximus Spell
Prepare 2 Charm Gloom Rat Spells
Quest Rewards:
2000 Coins
40 XP

Quest 8: Love Conquers All
Yvette is set to try anything she can to save Rafael
Craft 2 Magic Trinkets
Craft 1 Iron Axe
Have 10 Berries
Rafael has snapped out of the curse thanks to Yvette! Here they are ready for the ceremony. Don't they look magnificent?
Quest 9: Wedding Bells
Here we go! Yvette's Wedding Day is finally here!

Quest Tasks:
Craft 2 Bags of Popcorn
Visit 2 Neighbors
Craft 2 Bottles of Champagne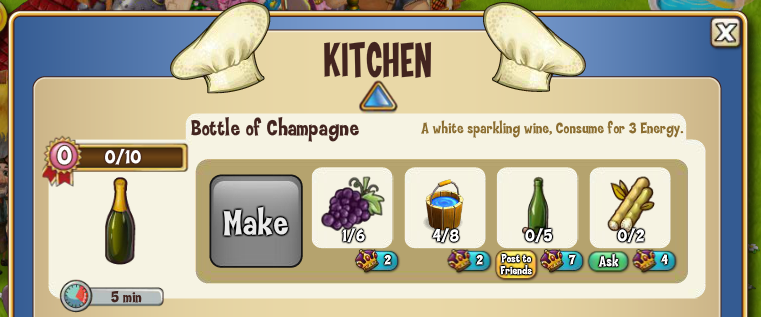 2000 Coins
40 XP
1 Female Cupid Hat
1 Wedding Skirt
1 Wedding Shirt